Professional house cleaning services.
2002 Founded
24 Locations

About Men In Kilts

The Men In Kilts brand is fun and friendly, but when it comes to the quality of our franchise opportunity, we're all business. We offer interior and exterior window cleaning, gutter cleaning, house washing, and pressure washing for residential and commercial properties.
Franchising In Style

When you become a Men In Kilts franchisee, you'll be in good company. We've built a culture of kindness and collaboration, starting with the relationship between you and our corporate office. Think of us as your business partner. Our goal is to help you grow, and we do whatever we can to help you get your business to where you want it to go.

As a part of a larger clan of home service brands, we have a network of business owners ready to help their fellow franchisees figure out any challenge that arises. And while we love the work we do, our franchisees still know how to have fun.
It's Easy to Start Your Franchising Journey
From the first exploratory call to the moment you become a franchise owner, our team is here to support you every step of the way. Your roadmap to success begins with our comprehensive discovery process.
Investment Numbers
$35,000
Minimum Liquid Capital
$100,000
Minimum Net Worth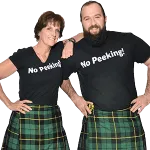 Our customers positively anticipate our arrival because they WANT to see our cleaners in kilts! There is no other service franchise you could own that garners this kind of attention.

Judy Briggs and son Christopher
Men In Kilts Franchisees
Franchise Opportunities
Financial rewards and personal freedom with a Men In Kilts Franchise

The Next Steps
Fill out this form to get started. We'll also send along some useful links and additional information. By the way, we do not share your information with any outside parties. Your privacy is important to us.